Call for Papers
METU British Novelists International Conference: "Daniel Defoe and His Work"
Middle East Technical University, Ankara, Turkey, 12-13 December 2019
The Department of Foreign Language Education at Middle East Technical University is pleased to announce the call for its 25th British Novelists Conference, the theme of which is "Daniel Defoe and His Work." The conference will be held on 12-13 December, 2019 in Ankara, Turkey.
We invite proposals for 20-minute presentations on any aspect of Daniel Defoe's work. Interdisciplinary and comparative approaches are also welcome. Please send abstracts of about 250 words to bnic2019@metu.edu.tr by 30 September 2019. Please include your name, institutional affiliation and contact information in your submission.
Keynote Speaker is Prof. John Richetti from University of Pennsylvania. Prof. Richetti's books include: Popular Fiction Before Richardson: Narrative Patterns 1700-1739 (1969; 1992); Defoe's Narratives: Situations and Structures (1975); Daniel Defoe (1987); The English Novel in History, 1700-1780 (1999); and The Life of Daniel Defoe: A Critical Biography (2005). He has edited The Cambridge Companion to the Eighteenth-Century Novel (1996); The Columbia History of the British Novel (1995), and The Cambridge Companion to Daniel Defoe (2008). He is the editor of the Restoration and Eighteenth-Century volume of the New Cambridge History of English Literature (2005). His most recent works are the eighteenth-century volume of the Wiley-Blackwell history of British literature, A History of Eighteenth-Century British Literature (2017) and his edition of the Cambridge Companion to Robinson Crusoe (2018).
Further information about the conference and its venue can be found at http://www.britishnovelists.metu.edu.tr
Queries can be directed to Assoc. Prof. Dr. Margaret J. M. Sönmez at margaret@metu.edu.tr.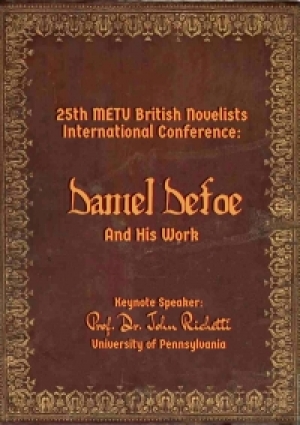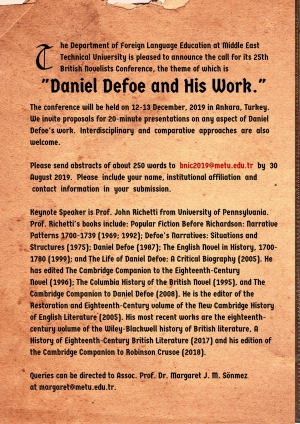 ---
Last Updated:
02/09/2019 - 13:36